Every season there's a selection of brand new hospitality establishments that kickoff their concepts in Amsterdam and I am fortunate enough to be the first in line to experience what they have to offer. This Fall and Winter has been quite a ride, so on this shortest day of the year I'd like to highlight six of these newcomers!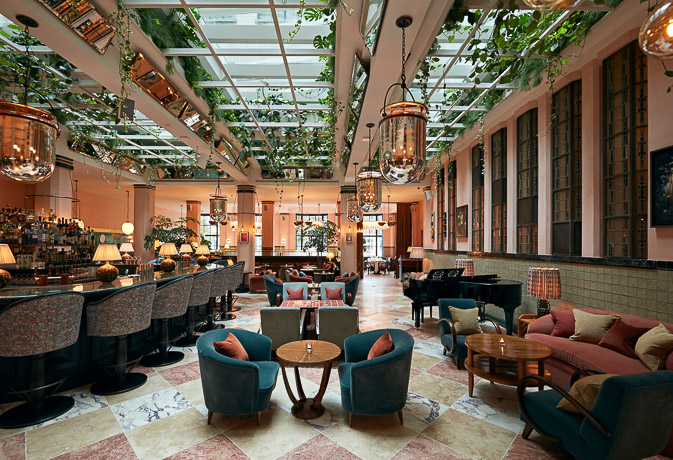 Cecconi's – City Center
On the ground floor of the newly opened Soho House Amsterdam lies an Italian restaurant called Cecconi's. With several locations around the world, including London and New York, Cecconi's has already presented her dishes to capital city audiences and has wowed the Amsterdam crowd beyond their expectations. I've been here 5 times since they opened and have never been disappointed with their stunning menu. The incredible aubergine parmigiana and meatballs are my favorites to start with. As for entrees, the lobster spaghetti is by far my favorite menu item, but you can't go wrong with their classic veal Millanese, chicken paillard, truffle agnolotti or mushroom risotto. Last but not least: Cecconi's has, in my opinion, the very best tiramisu I've ever tasted, hands down. Long live Italian cuisine!
---
---
Dimitri's – East
The scoop of a brand new restaurant opening in the east of Amsterdam with a 22 year old, one-to-watch head chef hit our taste buds. Curious as we all were to taste the menu during their opening event, I had the privilege to step in a week earlier and photograph their entire menu! Dimitri's presents a menu that mainly serves an audience that like a shared dining experience (aside of a few a la carte options) and love Mediterranean, Arabic flavours. Their choice of cuisine brings together a menu with some bold, fusion cuisine items that can easily turn into your all-time favorites! I've deliberately shared the picture (above) of my favorite sharing dish on their menu: white cod beignets with lime wedges and chimichurri, SO GOOD!
I have to note though, that aside of the great choice in food, a short chat with Ray and his team quickly shows you how passionate these guys are and that combined makes Dimitri's a great new treasure in our town's east-end.
---
---
Kluis – City Center
An all-day hidden treasure inside the old bank building on the lavishing Haarlemmerstraat, one of the city's favorite shopping and dining streets. Together with my G&T loving girlfriends we stepped into this monumental building to have a taste of their drinks and bites menu. The stylish interior brings together an open kitchen, restaurant area, bar area and a lounge with comfy couches. A living room set-up that really works and warms you up during these winter months. Their G&T's are made with Amsterdam's finest (Damrak Gin) and our favorite bar bite pick was…the gravlax on toast; SO soft and delicate!
---
---
Park – East
As part of Hotel Arena, overlooking Oosterpark, this beautiful all-day hide-away is definitely a favourite during the summer months. Their outdoor terrace is truly incredible and feels like a forest escape in the middle of our capital city. However, their fire place and warm interior is very welcoming during these winter months as well. My friend Lieke (Little Wanderbook) invited me along for a tasting of their menu. Their comfort food menu doesn't pretend to be anything and thus it's easy to make a safe choice. Our favorite pick from their starters is definitely the wontons filled with prawns and lobster. But the unexpected showstopper was definitely our main course: farmer's chicken with truffle teriyaki and jerusalem artichoke. Sadly I wasn't able to make a good picture of this, but guys believe me when I say it's the most delicious and best €21 you'll spend on an epic plate of damn fine food! 🙂
---
---
Mooie Boules – East
We're staying in the east and going from all-day concepts to a big building behind the tallest wooden windmill of our little country. What's in this building? A food market surrounded with a whole lotta gravel! 🙂 Mooie Boules is the very first jeu de boules-foodhal concept in the Netherlands. With food stalls serving a variety of dishes (by both Ron Blauw and BAUT) all your taste buds can easily be fulfilled here. Now although I never thought I'd even get close to liking the jeu de boules game, guys, I totally went crazy competitive and didn't wanna stop! 🙂 Mooie Boules is a great weekday (after-work) or weekend (all-day) spot that I highly recommend for a group of friends or larger parties that just wanna have a great day/night out.
---
---
Holland Casino West, Global Dining – West
We travel from the east-side to the (very) west-side of town. To a corner that during opening night looked like Las Vegas decided to visit Amsterdam for a few hours. Celebrities, flying showgirls, colourful lights, a red carpet. The entire city was talking about the brand new Holland Casino that opened behind Amsterdam's Sloterdijk station. Located in the grand building that sleeps hotel guests of the Radisson. Just a few weeks before this spectacle I took my lovely friend Sogand with me. We experienced a tour of the casino and a look/taste of their in-house restaurant: Global Dining.
Now I have to say that I'm not a gambling kinda guy. Honestly this was my first time ever walking through a casino. Luckily my fabulous friend had visited some of the world's greatest casino's with her family. She helped me to understand this spectacle and create some sort of soft landing. Naturally it helped to have some delicious bites along side and Global Dining definitely delivers that. The chef came with his special dessert (photo above) which was stunning and delicious.
Although my experience was great, I'm definitely not a casino fan. I don't think I would necessarily go to the extend to have dinner at a casino. I know so many people love to pick the casino for a night out. If that's your thing, definitely try some of the dishes at Global Dining.
---
www.hollandcasino.nl/vestigingen/amsterdam-west/restaurant
---
For Dishtales Travel posts check out: