When I told a friend that I was excited to feature a lovely lady on the blog who was going to introduce us all to Nigerian cuisine I could've known that the following joke was bound to be made: "Don't they just eat cooked rice in Africa?". A harmless (and somewhat tasteless) joke one might say. However, what troubled me more was that he followed by asking: "I mean, how do they even have cuisine?". Being Persian and raised in both Europe and North America, I'm pretty much used to hearing mainstream stereotyping phrases on a daily basis. While all these ancient cultures with rich traditions, extraordinary spices and unique cuisine around the world are everyday being labelled with these stereotypes, Dishtales is proud to be a platform that brings together all fellow humans through the eyes of cuisine, paying tribute to their food heritage. Today we explore West African food in the kitchen of a Nigerian lady: Meet Ebere.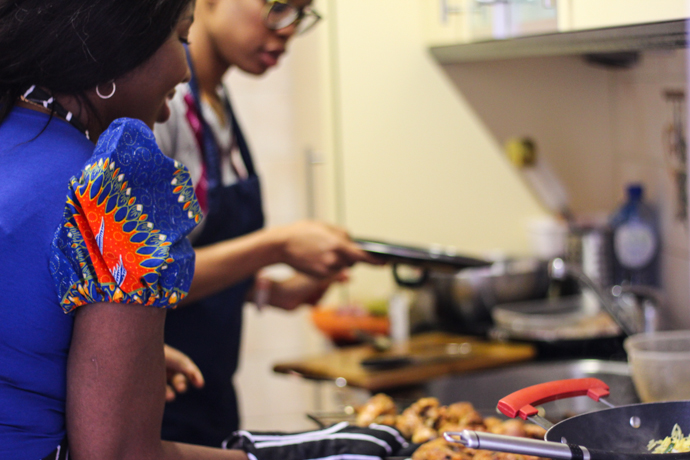 I have to admit that besides cooking and trying out North African cuisine (Moroccan, Egyptian and Lebanese food) I have never tried food from other nations of this majestic continent. Considering that it's a continent of extensive organic produce (yes people, fresh market produce is totally considered as organic… 😉 ) and fantastic spices, I was super excited when Ebere invited me to her kitchen to discover a taste of Nigerian cuisine.

Being a true food entrepreneur, Ebere is on a quest to take people all over the world on a fun journey of discovering the rich and authentic taste of West African Cuisine. "I currently live in the Netherlands and founded 'Ataro Grill and Spices'. My company aims to showcase spices rich in natural anti-oxidants used for delicious and mouth-watering dishes," she explains. "As much as I enjoy cooking, I equally love sharing knowledge and so I intend to help people with cooking Nigerian meals in a practical and convenient way through (cooking) workshops." Little did I know that she invited her friend Tamkara and that they were preparing a true Nigerian food feast!


Nigerian fried rice, beef suya, grilled chicken and an extraordinary fried plantain side dish (recipe will soon be shared here!) that is (traditionally often) served along with Ebere's Nigerian recipe for Jollof Rice, which she shares with us today. Jollof rice is a popular West African rice dish with a combination of spices that makes you forget any low-carb diet that you might be on. I literally couldn't stop tasting (and re-tasting) all the delicious dishes that Ebere and Tamkara cooked, but I was surprised myself that this visually simple rice dish really hit my taste buds. Nigerian cuisine instantly found a place in my heart (and stomach…) and I certainly will be sharing a dish or two on the blog soon. I thank both these ladies for their efforts and praise Ebere for her quest to share the beauty of African cuisine with the world!
BUY:
Serving 5-6
500g Rice
0.25l chicken stock
0.75l cold water
¼ cup sunflower or olive Oil
1 small red onion
35g tomato paste
1 small Habanero pepper
2 beef bouillon cubes
½ tsp curry
½ tsp thyme
2 Bay leafs
Green peas and carrots (for garnishing)
Salt to taste
6 tbsp fresh tomato blend
Needed ingredients for the tomato blend:
4 tomatoes
1 medium red bell pepper
1 onion
2 tbsp water
DO:
Prepare the fresh tomato blend by blending the ingredients in a kitchen blender. You can add 2 tablespoons of water for easier blending.
Parboil rice in hot boiling water and thoroughly wash and drain in a sieve. Set the washed ride aside.
Add oil to a large pot and fry chopped red onions until soft. Add tomato paste and fry along until well blend with onions. Then add 6 tablespoons of fresh tomato blend (which is prepared already) and fry for another 5 to 10 minutes over medium heat.
Add chicken stock and water
Add spices and bring the mixture to a boil over medium heat
Add the rice and bay leafs (over medium heat), cover with lid and allow cooking until soft. Reduce the heat (to low) and allow simmering until the liquid is completely dried. *
Take out the bay leafs, mix the Jollof rice well and serve on a large dish. It's time to garnish and enjoy a taste of Nigerian cuisine! **
Oh and FYI:
* You may wish to seat the pot with aluminum foil to allow for even distribution of heat.
** Garnish your Jollof Rice with green peas and finely chopped carrots as desired. This dish is best served with grilled chicken and fried plantains (recipe process pictures are included in the post!)
https://dishtales.com/meet-ebere-nigerian-jollof-rice/
2014 | DISHTALES.COM
CURIOUS FOR MORE NIGERIAN CUISINE?
LIKE AND FOLLOW 'ATARO GRILL AND SPICES' ON FACEBOOK for regular updates of Eberi's quest to help the world discover more about Nigerian culture, food and spices. You can also contact her for Nigerian cooking workshops and more information on how/where to buy Nigerian spices produced by 'Ataro Grill and Spices' .